Allfasteners Gets Corny With New Safety Climb Installation
Installing a safety climb system to any tower is a monumental moment for all. The installation provides the industry's premier vertical lifeline system right to your tower – making it safe and secure for the climbers.
But when Viking Industrial Painting installed one of our safety climb systems to a water tank in Rochester, MN things got a little corny.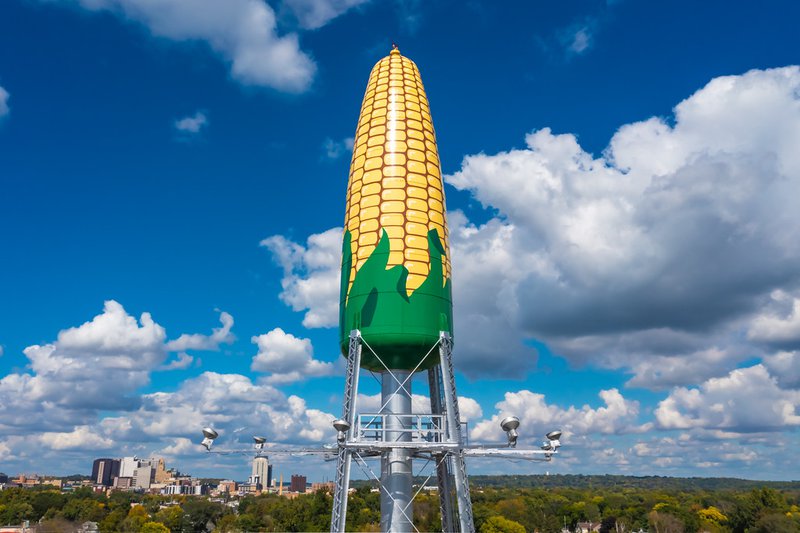 Photo credit: tnemec.com
That's right the water tank that was having a safety climb installed on it was in the shape of an ear of corn – not your typical tower!
Residents of Rochester have enjoyed this ear of corn gracing their skyline since 1931, and now Allfasteners has the privilege of being a part of this landmark.
If you want to see more about how steps have been taken to protect the water tank in the future, check out the article written by tnemec.com here: https://tnemec.com/projects/rochester-nm-corn-tank/
Have Safety Climb Help Secure Your Tower
If you need to have a lifeline system installed or need to replace a system currently on your structure, why not go with the industry's premier system – the Allfasteners Safety Climb System. Our systems are designed with safety in mind and are more than just the typical assembly. See for yourself:
Adaptability – No need to worry about parts not accommodating a variety of tower types, tower heights and existing hardware, mounts or obstructions on the tower.
Customizable or standard – You choose the buying method that works best for you, whether it's standard kits, customized kits or individual components.
Buy online – No need to compile lists of information and wait for a quote. Just select the items you need to get the job done.
Made in USA – All our systems are fabricated and assembled in the US with our proprietary Australian made Travel8 energy absorber.
Special solutions – If we don't have a component to fit a one-off application, we'll design, engineer and manufacture it in-house in our fabrication facility.
Contractor feedback welcomed – We listen to our customers and are always looking for ways to continually improve our safety climb system capabilities and design.
Want to Know More About Safety Climbs?
If you want to learn more about the industry's premier vertical lifeline system, then contact the innovators who created it – Allfasteners. Simply call 888.859.6060 or send us an email, and we'll gladly help with any questions you may have.