How Tower Concealment is Shaping the Industry
To comply with certain suburban sanctions and regulations, tower owners are now tasks with the job of making man made structures mask the aesthetics of the surrounding environment.
Some tower owners can struggle to mask the environment because steel towers do not always fit seamlessly into a park with pine trees – enter concealment.
What is Concealment
Concealment helps to hide unwanted structures from sight. They help to create designs that blend into city, campus, and other various surroundings without compromising performance.
Concealment structures are designed to wrap around a structure so that even the keenest eye cannot spot an antenna in any conceivable application.
Allfasteners Concealment Options
Allfasteners prides itself in offering aesthetically pleasing concealment and small cell solutions that blend into the surroundings, while upholding high performance. Allfasteners' concealment capabilities are designed to fit any need. Check out our concealment page to find out more about our options.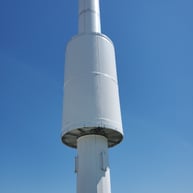 The Raptor Radome
Our innovative team prides themselves on developing leading edge designs including our newest concealment concept: The Raptor Radome. An easy access paneling system allows for easy maintenance while protecting carrier hardware and technology.
Monopines
Monopine branches are a great and easy way to blend antennas into a more natural landscape. These branches have been wind tunnel tested with sustained winds of 115 mph while the 5' branch was tested to 150 mph of sustained wind. Inquire for more information including branch sizes.
Ask About Our Concealment Solutions
To inquire more about our concealment solutions, you can check out our concealment page for more info. Or contact one of our representatives by calling 888.859.6060 or via email.